Commercial Painters | Calculate Prices With Best Painting Estimates
Get connected with the best commercial painting companies near you. Be sure and read our expert articles and use our tools to get prices from local pros.
About every 5-7 years or so business owners will need to paint the interior and the exterior of their office, and when that time comes Best Painting Estimates is there to help. From a small office, corporate office, or even an industrial building, we'll get you the best price for professional painting.
Studies have shown that 80% of business owners who do not compare prices will overpay on their commercial painting projects. We will help you avoid those costly mistakes as we connect you with painters in your area offering competitive quotes. Be sure and check out our cost guides below:
RESOURCE GUIDE
How Much Does Commercial Painting Cost?
How Much Does it Cost to Paint a Small Office?
Who are the Best Commercial Painting Companies?
Commercial Painting Solutions
We're excited to help you keep your office looking beautiful inside and out. Imagine what a new coat of paint and new colors will do to brighten your business up.
We help with:
Small Office Painting
Industrial Building Painting
Commercial Building Painting
Restaurant Painting
Exterior Office Painting Services
Exterior Office Painting
The estimated cost of exterior commercial painting varies based on size and location. A professional painter will assess your property in order to get a quote specific to you! Nationally, the average cost will be somewhere between one dollar and $2.86 per square foot.
For example, if you have a 1,000-square-foot building, the total cost of exterior commercial painting would be between $1,100 and $2,8990. But again, this is just an average – your specific project may cost more or less.
As for location, urban areas tend to be more expensive than rural areas. This is because painters in urban areas have to account for the higher cost of living, which means they charge more per square foot.
Of course, the size of your building isn't the only factor that affects the price of exterior commercial painting. The condition of your building's surface will also play a role. If your building's surface is in good condition, the painting job will be less expensive. But if your building's surface is in poor condition, the painting job will be more expensive.
The type of paint you choose will also affect the price. Some types of paint are more expensive than others. For example, epoxy paint is more expensive than latex paint.
Finally, the number of coats of paint you choose will also affect the price. Generally speaking, the more coats of paint you choose, the more expensive the job will be.
So, there are a lot of factors that go into the cost of exterior commercial painting. If you want to get an accurate estimate, it's best to consult with a professional painter. They will be able to assess your property and give you a quote that is specific to your project.
Calculate the Cost
The commercial painting estimate is an important part of any project. It will help you determine how much paint and other supplies need to be ordered for your location. If you're hiring a professional to paint your office they will calculate the price based on the total square footage of the area to be painted.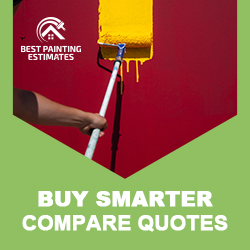 Many commercial painters will give you an estimate based on the square footage of the area to be painted. They will also include a price for any other services that may be required such as power washing or repairing any existing damage. Make sure to ask about the quality of the paint that will be used on your project. Most commercial painters use high-quality paints that will last for many years.
When you're getting a commercial painting estimate make sure to get a few different estimates from different companies. This way you can compare prices and services. Be sure to ask about any warranties or guarantees that are offered. A good company will stand behind their work and offer a money-back guarantee if you're not satisfied.
Once you have your commercial painting estimate it's time to start planning your project. Make sure you know exactly what you want to be painted and the colors you want to use. You should also make sure you have a budget in mind. This way you can make sure the job gets done right without going over your budget.