How Much Does it Cost to Paint a 1500 Sq Ft House?
If you do it yourself, you can paint a 1500 sq ft house for around $404, or if you hire a painting company you will invest upwards of $4.88 – $8.10 per sq ft.  Either way, the labor time will easily run you several days.
Annually, over $400 billion is spent on home renovations in the US! Most people spent more time at home than usual during that year. For that reason, many decided to invest in revamping these spaces.
But with the cost of living and labor costs continuing to rise, is it too late to start a renovation? Not at all!
Home renovations don't have to cost the earth. The key is to figure out your budget, then stick to it.
One of your first expenses will be the cost to paint the rooms you're renovating. If you're painting several rooms – or your entire house – these expenses add up surprisingly fast.
Here, we'll go over the average cost to paint a 1,500-square-foot house. Of course, the numbers change depending on how open-plan your home is, and what type of painting you're doing. But with these figures as a starting point, you can formulate a budget for your project.
The Average Cost to Paint a 1,500-Square-Foot House
For a 1,500-square-foot home, the average repainting cost is approximately $3,000.
Of course, this is a huge generalization. Many factors affect the price of your individual project. These include:
The price of your paint
The type of paint you use
Whether your hire decorators to paint your home
How many rooms your house has
Whether your house is open-plan in design
Whether you plan to paint the ceiling
How quickly you'd like the project finished
On top of that, labor and paint prices vary across the country. For these reasons, the "average" price can vary around the $3,750 mark by about $900 on either side.
But don't worry, your budget doesn't have to be that vague! Below are some more painting questions to help you narrow down exactly how much you need to budget.
How Much Do Painters Charge per Square Foot on a 1500-Square-Foot House?
One way to narrow down your budget is to calculate your requirements by square footage.
The average price a painter will charge per square foot is $4.88 – $8.10. Doing some quick calculations suggests that painting a 1500-square-foot home will set you back $4820-$10,150. But generally, it will sit within the $7,200 range.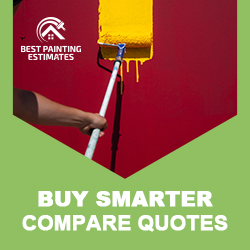 If you include ceilings and trims in your renovation, the cost per square foot will increase. If your ceilings are higher than average, the cost per square foot also goes up. For example, for ceilings that are 14 feet high, you can expect around $1.50 to be added to the cost to paint per square foot.
At the same time, if your kitchen and living area are open plan, the cost drastically decreases. Fewer walls mean less paint!
If your house is on one level, there's also no stairwell to paint, which can reduce the overall cost.
All in all, if your home doesn't have any special requirements, you should be able to stay within the $2-$3 range. But the most you should expect to pay per square foot if you have a more complex project is $4.50 per square foot.
How Many Gallons of Paint Do I Need for a 1500-Square-Foot House?
Assuming a typical house layout, your project should need about 3-4 gallons of paint per coat.
The trick is knowing how many coats your home painting will require. This is where the pricing becomes more difficult.
Lighter paint colors are the cheaper option because they almost always pull off a two-coat finish. Some paints may even look good enough after just one coat!
The only exception to this is if you're painting a light color over an existing dark-colored wall. That will require at least two coats, if not three.
Painting a house with darker colors is more difficult. They always require at least two coats. Some darker paints are also thicker in nature, so the same quantity won't go as far.
Besides the color choices, the quality of paint you choose also affects how much you need to buy. Cheaper paints may seem like a no-brainer for saving money. But they're most often thinner, and won't cover your walls as well.
For a lighter color, you might be able to get away with making thinner paint stretch. But thin paint in a dark color is a recipe for disaster – in other words, lots of coats! This can make the project more expensive than if you choose a better quality paint in the first place.
Assuming an average of two coats across your project, you should need between 6-8 gallons of paint. But use the above information to determine whether you may need to adjust that figure.
What About Primer?
Most professional painters recommend that you begin your project with primer. As we said, that should be 3-4 gallons worth in a 1500-square-foot house.
While this may seem like an unnecessary expense, it can actually help stretch your paint further. That's because it seals the existing wall, stopping the new paint from soaking into it. Therefore, you'll spend less on paint.
It also makes the paintwork more predictable. As the previous wall is sealed, the surface is smooth, and will always come up well after painting. And any existing marks won't cause you a headache by shining through.
How Much Are Labor Costs to Paint a 1500-Square-Foot House?
Painting is a very time-intensive job. The prep work and moving furniture suck up lots of time. That gets expensive when you're paying labor by the hour.
The prices we've discussed so far assume that you'll hire professional painters for your project. So, the real question is how much money you'll save without them.
Of the $1.88 – $4.10 cost per square foot, most of that is for labor. The paint itself is not your greatest expense by a long shot.
In theory, you could save more than 50% of your budget if you choose to paint your home yourself. However, many choose to splash out on the labor costs.
That's because their professional finish is difficult to achieve as an amateur. Plus, they'll be much faster at the work. And a faster project equals minimal disturbance to your day-to-day life.
How Much Does It Cost to Paint Ceilings in a 1500-Square-Foot House?
As we said, adding ceiling painting to your project jacks up the price. Though it's just one of the five painted sides of a room, it's more labor-intensive. Especially with a very high ceiling, painters may even need to erect scaffolding!
Assuming a typical ceiling height, expect a painter to charge $1-$2 per square foot of ceiling.
Let's combine this with our earlier calculations. Including 1500 square feet of ceiling painting adds $1499-$3000 to your project budget.
As this is such an expensive line item, and it's not in your everyday eye line, some people are selective about which ceilings to paint. For example, you may have one room in the house in which the ceiling look particularly dated. You could choose to paint just that one ceiling, but leave the rest as is.
But if you choose to add complete ceiling painting to your project, expect the price to increase from about $2885 to about $4551, on average.
How Much Does It Cost to Paint the Trim in a 1500-Square-Foot House?
Painting interior and exterior trim both cost between $1-$6 per foot. This wide price range is affected by the material you'll be painting, and how thorough you'd like the work to be.
For example, the cheapest end of the spectrum is painting a wood interior trim. In a 1500-square-foot home, this may set you back only $500.
On the higher end is prepping, painting, and caulking exterior vinyl trims. This can skyrocket the cost to almost $9000.
When painting exterior trims, the location also affects the price. Trims that are more difficult to access, such as facias and soffits, take more time to paint, which costs you more.
Obviously, this is a difficult cost to average. But $1500 is a good estimate for 500 feet of interior trim in a 1500-square-foot home.
How Much Does It Cost to Paint the Exterior of a 1500-Square-Foot House?
You may be surprised to know that painting the exterior costs about the same as the interior. While the overall surface area may be smaller, the job is more complex.
Factors like weather, temperature, and ease of access all play a part in increasing the cost. But on average, the exterior painting cost for a 1500-square-foot house is roughly $3000.
Start Out With the Best Painting Estimates
Calculating the cost to paint a home can be overwhelming. The safest bet for a successful project is having a reliable budget. That's why we're here.
Use our painting estimate resources to start your project on the right foot. Eliminate the guesswork by working with the best information out there. Check out our most recent posts for up-to-date painting advice.
And if you have more questions, get in touch. We're here to help you with all your painting needs. Tell us about your project, and we'll work with you on all your painting decisions.