How Much Does it Cost to Paint a 3000 Sq Ft House?
If you do it yourself, you can paint a 3000 sq ft house for around $600, or if you hire a painting company you will invest upwards of $4.87 – $7.06 per sq ft.  Either way, the labor time will easily run 5-12 days.
According to statistics, painting businesses generate more than $31 billion in revenue.
It's no wonder, as improving the overall appearance of one's home is easily accomplished with a quality paint job. Painting the interior and exterior of your home is a quick and inexpensive way to give your home the ultimate makeover.
So, how much does it cost to paint a house? What is the significance of paint? What are the advantages of employing a painter? Let's delve a little deeper into these questions to find appropriate answers.
4 Advantages of Painting Your House
Painting your house is about more than just adding color or curb appeal to your home. There are many benefits of paint that you may be unaware of. Read on to discover more.
Increases Value
Painting both the interior and exterior of your home is one of the simplest and most cost-effective ways to increase its value. A well-executed paint job can convey to potential buyers that your home has been well-maintained. Furthermore, it can help a home sell faster and for a higher price.
Even if you don't have any immediate plans to sell your home, a quality paint job can last up to seven years. It is an investment that pays off in the long run.
Protect and Prevent
Painting adds a layer of protection to surfaces, both inside and out. House painting is a great way to protect your walls from harsh elements and delay the deterioration of your home. The painting also aids in locating insect-damaged areas of the home early, which helps you avoid costly repairs down the road.
Better Air Quality
Due to technological advances and a greater focus on health, many indoor paints are now available with very low or no VOC levels (carbon-containing substances that easily become vapors or gasses).
Paint drying isn't the only time these substances are released into the air, and they can be harmful to your health.
If you or your loved ones suffer from allergies, asthma, or chemical sensitivity, this is a fantastic option for your home. A fresh coat of paint reduces dust and other allergens, which further improves the air quality of your home.
Fresh Makeover
There are imperfections in every house. You can see the wear and tear on your home's walls in the form of dents, dings, and marks. Having the inside of your home painted can hide flaws and make it look new and revitalized. Changing the interior paint color is another inexpensive way to bring your home up to date.
Calculate The Cost To Paint a 3000 Sq Ft House
The cost of painting a house will vary greatly depending on its size and the amount of preparation needed before painting, such as pressure washing or if painting your walls is required before a paint job. In general, expect to pay $4.87 – $7.06 per sq ft of space to be painted.
The house's material also affects the price. Stucco and brick cost $1 per square foot more to paint than vinyl and wood, and two and three-story homes cost more due to the extra equipment needed, such as ladders and scaffolding.
Other important factors include whether you do it yourself or have someone else do it, if you need to buy ladders, tape, paintbrushes, or other supplies, and if you're switching color schemes, which might require more coats, or a coat of primer first.
Painting a 3000 Square Foot House – The Details
Whether you're a current or potential homeowner of a 3,000-square-foot home, it's always nice to have a house painting cost guide to help simplify your experience. Read on to learn more.
Cost to Paint a Room
A 3,000-square-foot house is slightly larger than the norm, and it typically has three to four bedrooms, two to three bathrooms, a living room, and an open kitchen.
On average, the cost to paint a room ranges between $550 and $950. The price of painting per square foot is between $4 and $7, and painting the ceilings is about $2 per square foot.
The cost of painting interior trims and baseboards per linear foot ranges between $1 and $4 (or $500 and $2,000). A house's exterior trim will cost between $1 and $4 per linear foot (or between $1,000 and $2,500). Trim and doors are painted for between $45 and $200 per side. Window trim and frames can range in price from $25 to $150 per window.
How Many Gallons of Paint to Paint 3000 Sq Ft House?
For a 3,000-square-foot house, you will need approximately 12 to 15 gallons of exterior paint, 4 gallons of exterior trim paint, 20 to 22 gallons of interior paint, and 5 gallons of interior trim paint for about two coats.
If the surface has been prepped and primed well, you usually only need two coats of paint. This is especially true if you are painting over a lighter color with a darker one because you are sure to get good coverage.
Interior and Exterior
For a 3,000-square-foot house, the average cost of an interior paint job ranges between $8,000 and $12,000, and the average cost of an exterior paint job ranges from $7,000 to $11,400.
Keep in mind that the number of stories affects the cost of painting because there is more surface area and more work to do. When house painters need to use taller ladders or scaffolding, it can be hard to get to them and make them less safe. A job takes longer to finish on a house with more than one story.
Cost of Paint
The cost of paint is going to average between $26-$47 per gallon of paint used. All paint has a spread rate that controls how many square feet can be covered per gallon. A good rule of thumb is 250 to 400 square feet per gallon for each coat and 170 to 200 square feet per gallon for two coats.
Consider buying 80% of the estimated amount of paint you need up front and the remaining 20% when you are nearly finished because good quality paint is expensive and you don't want to overbuy.
You can also enter your home's square footage and other details into a paint coverage calculator to obtain a more precise estimate.
High-Quality Paint
The average cost of high-quality paint is going to be in the neighborhood of $43 a gallon. While it's always nice to save money, there are some purchases where you shouldn't skimp on quality. You get what you pay for when it comes to paint; the higher the price, the better the quality.
Top-quality paint levels and applies more evenly, and brush and roller marks blend in more effectively. It conceals imperfections in fewer coats, saving time and money and making touch-ups easy.
Premium paint is less likely to splatter flecks of paint during application. To ensure the color stays the way you want it, use a good 100% acrylic latex paint; the fresh look of these paints lasts for years.
High-quality paint also produces a smooth finish that makes the paint less likely to stick and more resistant to indentations. It helps to resist dirt, grime, and mildew, and because these paints are more durable and can handle scrubbing without causing damage to the surface, makes cleaning easier.
Overall, high-quality paint speaks for itself and gives you the best bang for your buck as a result of not compromising paint value.
Labor Costs
Labor cost will typically run between $70-$106 per hour depending on how many employees are on the job. The cost of labor makes up between 70 and 85 percent of the total cost of your painting project. In order to paint a house, you need to get the right tools, clean and fix the walls, caulk any holes, sand off the old paint, prime, paint two coats, and clean up the work area.
If you decide to hire a professional painter, the cost may vary depending on the painter's level of expertise, job difficulty, and location.
DIY Versus Hiring a Professional
When it comes to painting your home, you might be tempted to do it yourself. However, even though painting might seem simple, there are many factors to consider before starting a project on your own.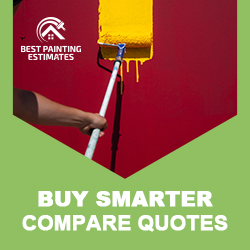 So how do you decide between a DIY paint job or hiring a professional? Here are some factors to take into account as you make your choice:
Do It Yourself
The advantages of a DIY paint job are saving money on labor costs, personalized control over the process and outcome, and no time constraints as it is done on your schedule.
The disadvantages are the challenge of balancing everyday responsibilities on top of a DIY project, total responsibility for the preparation, maintenance, and cleanup, and exposing yourself to potential risks, hazards, and injuries.
Hiring a Professional
The advantages of hiring a professional are zero risk of injury or strain on your body, it requires minimal commitment from you when somebody else is in charge, and you get high-quality professional results.
The disadvantages are that it could entail lengthy research to find a trustworthy contractor, you pay for the labor costs, and you have less control over the project's outcome.
Disadvantages of Not Painting Your House
The presence of paint serves as a barrier that provides immediate and long-term protection from wall damage. Potential risks due to moisture penetrating your walls can lead to a breakdown of your home's structural integrity.
When moisture seeps into the wood in your home, it becomes a breeding ground for mold and mildew. Chips and cracks due to unprotected dampened areas can also lead to insect damage and infestation.
Without the protective seal of paint, it can result in a buildup of dust, dirt, grime, and allergens. Furthermore, when exposed to the elements such as rain and snow, your home is vulnerable to water stains and decaying wood.
With the help of a quality paint job, you can take precautions to safeguard your health and home from potential risks and dangers.
A Worthwhile Investment
How much does it cost to paint a house? The answer doesn't have to be a complicated one, and neither does the process.
Our goal is to provide a simple and effective guide to painting a 3,000-square-foot home so that your experience is a seamless one.
Contact us and take that first step to give your home the ultimate makeover!