How Much Does it Cost to Paint the Exterior of a House?
If you do it yourself, you can paint the exterior of a house for around $1200, or if you hire a painting company you will invest upwards of $2.03 – $4.12 per sq ft. Either way, the labor time will easily run you a few days.
There are various reasons to paint the exterior of your house. A fresh coat of paint can add up to 2% more value to your home. Not only does painting your house add resale value, but it can hide old stains.
But you may have already guessed that repainting your home does wonders for curb appeal and resale. The thing you may really want to know is how much painting your house costs.
Many factors decide how much your house painting will cost. The cost of house paint, labor, and fees according to size will also determine how much money you spend.
A lot goes into figuring out the costs of painting the exterior of your house. Keep reading to learn how much cash you'll spend on repainting your residence.
How Much Does Painting Your Home's Exterior Cost?
Depending on whether or not you outsource painting or DIY the typical amount you could expect to spend to paint the exterior of your house is $1200 to $6,900. The cost to paint your house per square foot is $1.88 – $4.10.
These prices may fluctuate depending on the siding material, paintable exterior, amount of labor, and the number of stories your home has.
Something we'd like to get out of the way immediately is that it's best to request a quote from a professional painting team. All of what's in this article are estimates.
As for how much DIY house painting costs, you'll spend about $400 to $1,800.
A professional painter's rates range from $20 to $50 per hour. A painter may earn $200 to $500 daily while working on your house exterior.
DIY Painting Your House: Here's the Math
If you're wondering where that DIY estimate comes from, understand that those numbers are for a 1,500-square-foot home. Here's the math for the DIY house painting cost – 1,500 square feet x times $4 = $6,000.
Before we continue, you need to know two things: professional labor costs are 70% to 80% of what you pay for the job. We're also using higher house paint cost estimates for our equation.
That means we opted for $4 instead of $3 to $1. With that said, we've got $6,000, the average cost for painting a house. We now multiply $6,000 by .80, which equals $4,800.
So $4,800 is 80% of your labor costs when getting your house painted professionally. Subtract $4,800 from $6,000, and you get $1,200.
House Painting Cost According to Size
Estimating how much house painting will cost according to size is somewhat tricky. You should know that the size estimate doesn't account for your house's total square footage.
1000 Sq Ft House: For example, let's say you have a 1,000-square-foot home; only 800 square feet of that is paintable space. So the cost to paint 800 square feet of the house is $800 to $3,200. DIY painting your house exterior costs $800.
1500 Sq Ft House: The painting cost for a 1,500-square-foot house is $1,200 to $4,800 for 1,200 square feet. We've already gotten the DIY price for a residence of this size earlier: $1,200.
You may have noticed a pattern in house paint cost by now. Hiring a professional to paint your house will at least price equal to the amount of paintable square footage.
2000 Sq Ft House: As a clarifying example, a 2,000-square-foot home will only have 1,700 square feet of paintable space. The lowest price you'll pay is $1,700. The most money you'll issue for a house this size is $6,800.
Remember, professionally painting a house costs $1 to $4 per square foot. The price will differ depending on who's doing the job, but it's possible to pay a fee equal to your home's size.
The DIY price for a 2,000-square-foot home is $1,600. A 2,500-square-foot home has 2,100 square feet of paintable exterior and will take anywhere from $2,100 to $8,400 to complete the job.
2500 Sq Ft House: If you painted your 2,500-square-foot home yourself, you'd spend two grand on paint and supplies.
Exterior Painting Costs By Stories
Previous estimates were for single-story homes. If you're looking to paint a multi-story house, you'll have to pay at least 25% more than you would for a single-story residence, but prices can rise to 50%.
Single Story House: A single-story 1,000 to 2,000-square-foot home can cost $1,000 to over six grand. Two-story houses range from 1,500 to 2,500 square feet. Your painting cost is $2,000 to $10,500.
Three Story House: Three-story residences are 2,500 square feet or bigger. A professional painting team will charge over three grand to $18,000 to paint a home this large.
So How Much Does House Paint Cost?
Primer may cost about $20 to $50 per gallon and may cover 200 to 300 square feet. If you're DIY painting your home, it's a good idea to use primer on most bare surfaces as it helps block stains and ensures an even top coat.
Acrylic and latex paints have qualities that make them two of the best formulas for painting a house exterior. Acrylic paints are thick because they're made from high-quality materials.
Latex is easy to clean because it's water-based and quick drying. Both paints expand and contract with temperature changes, making excellent choices for exterior surfaces.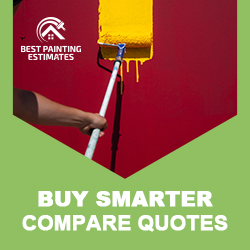 Acrylic and latex house paint costs $30 to $80 per gallon. But while acrylic and latex paint are well-suited for wood, you may want something else for brick surfaces. Mineral-based brick paint can cost up to $150 per gallon.
A single gallon of paint will cover approximately 250 to 400 square feet of your house exterior. It's a good rule to apply at least two coats of paint for enduring coverage.
You may need at least a gallon of trim paint per every eight gallons of exterior paint.
Pricing Other Painting Services
Most professional painters will automatically include the cost of painting your detached garage and door with the rest of your home. There are other parts of your house's exterior that you may want to be repainted.
Here's what you can expect to pay for those parts of your exterior:
Patio, decks, and porches cost $2 to $5 per square foot

Deck staining may cost $450 to one grand
Painting a deck is $600 to two grand
Painting a patio runs $300 to $1,000
Painting a front porch may cost up to $750

Exterior doors cost $100 to $225 per door
Exterior shutter cost $60 to $150 per pair
Eaves, fascia, and soffits cost $2 to $ per linear foot
Exterior trim is $1 to $4 per linear foot
Exterior walls are $1 to $4 per square foot
Window frames will cost $45 to $150 per window
Gutters and downspouts are $100 to $900
Home foundations will cost $200 to $900
The average price of painting a garage door alone is $100 to over $600. Painting a detached garage and door is about $350 to $2,800.
A one-car garage ranges from $350 to $1,900. A two-door garage is $600 to $2,800; the price difference between a one-car and two-car garage is a one and a half times increase.
When Is the Best Time to Paint Your House?
Winter is the best time to paint the interior of your house. However, summer or early fall is the best time to paint your home's exterior. The catch, though, is that "summer" means different things depending on where you live.
The best way to know when you should have your paint on the exterior of your house is to look at the temperature conditions required for your paint to cure properly.
A professional will tell you to check the weather days before and after your chosen paint day so the house paint has ample time to dry. The painting day should also be consistently warm and dry.
Choosing to paint in the fall is trickier than in summer. Temperatures tend to fluctuate toward the cold, so you may have trouble selecting a good day to paint your residence.
Early fall is usually more temperate, so it's the best time to paint. Painting your home exterior in the winter depends on where you live. Winter in southern Florida is drastically different from Northern New York.
As long as the weather is 35 degrees Fahrenheit and above, you're probably okay to paint. Still, you may want to refrain from painting your house after November in the Northern states.
Is It Better to Spray or Roll Exterior Paint?
You may not think how the paint gets onto your house matters, but there are some differences between spraying and rolling paint onto your home. Preparing to spray paint onto a surface takes more time.
You have to place paint inside the reservoir and connect the hoses and cords to enable you to apply the paint. Rolling paint only requires pouring the liquid into the trough and rolling it onto the rolling brush.
The act of painting, however, takes less time with a sprayer than if you rolled the paint onto the exterior of your house. But, choosing spray painting still involves rolling.
Professionals use a method called "backrolling," which uses a roller to retouch sprayed houses. Backrolling ensures the paint gets into every corner of the surface. Sprayers do achieve a better finish than rolling paint, though.
Ultimately, which method you choose is up to your preferences. A professional can make sprayed or rolled paint on your home look good.
Rolling may be the better option if you want to DIY the job. It's easy for an inexperienced person to mess up spray painting.
Looking to Paint the Exterior of Your House?
Painting the exterior of your house depends on various factors. The larger your residence, the more the painting cost. You can pay as little as $1 per square foot.
House paint costs may run you up to $80 per gallon. Paint for brick homes is as much as $150 per gallon.
If there is more you'd like to know about house exterior painting estimates, contact us at Best Painting Estimates today!