How Much Does It Cost to Paint a Kitchen?
If you do it yourself, you can paint a kitchen for around $300, or if you hire a painting company you will invest upwards of $700-$1700. Either way, the labor time will easily run you four hours.
Did you know that painting the interior of your house yields an impressive 107% ROI? One of the best and easiest things you can do to spruce up your home is to repaint.
A specific area of interest for home buyers and those looking to remodel is the kitchen. People love an updated kitchen with contemporary cabinets and fixtures, and paint is a pretty quick and simple fix.
But, how much is that going to cost you?
We've got all your answers! Read on to find out how much it costs to paint a kitchen and kitchen cabinets, and how to find the best color and price for your project.
The Price to Paint a Kitchen
These prices are going to vary based on location, size, type of paint, and other factors. However, you can get a general idea of what painting your kitchen will set you back before you fully commit.
On average, you can expect to pay $800 to paint a 200-square-foot kitchen. You can plan to pay anywhere from $600 to $1,320 based on the national average. But, as we said, there are a few aspects that do come into play.
For instance, are you wanting just the walls of your kitchen painted, or would you like your cabinets painted as well? Do you have some unsightly wallpaper that needs to be removed? That will factor into your cost as well.
What Is a Fair Price to Paint a Small Kitchen?
Smaller kitchens that are around 70 square feet will likely run you about $125 to $250 unless you'd like the contractor to paint behind your fixtures. In that case, you can expect to pay $230 to $350.
Your kitchen layout also affects the cost of the kitchen painting job. A small one-wall kitchen that you would have in an apartment or open layout space runs from $140 to $420.
Galley kitchens are also fairly common in smaller living spaces. The price range for that is $200 to $700 because they can be difficult to paint, even though they're usually only about 80 to 120 square feet.
What Is a Fair Price to Paint a Large Kitchen?
The largest kitchen sizes are usually u-shaped kitchens and are the most expensive because of the number of cabinets. With a minimum of 175 square feet, the average cost of painting this type of kitchen is $600 to $2,000.
Peninsula kitchens are also at the higher end of the spectrum averaging between 150 to 220 square feet. A fair price would be about $500 to $1,400.
If you have an island or L-shaped kitchen expect to pay as little as $300 and as much as $1,200.
How Much Does It Cost to Remove Wallpaper?
Wallpaper is an additional cost to consider when hiring someone to paint your kitchen. Some wallpapers are easier to remove than others and don't require as much labor. However, if you're in an older home and you didn't put the wallpaper up yourself, there's a good chance it's very old and pretty tough to remove.
A kitchen with a wall square footage of 385 can cost from $290 to $770. You can expect to pay $0.75 to $2 per square foot for wallpaper removal. Go ahead and add on an extra $50 to $75 to the end price for the cost of equipment to remove it.
How Much Does It Cost to Paint Kitchen Cabinets?
A good rule of thumb for expecting what to pay to paint kitchen cabinets is $3 to $10 per square foot. It involves quite a few steps in the process, such as removing the doors and hardware.
This price will vary based on what type of material your cabinets are. Hardwood is more expensive to repaint than plywood or wood veneer. The type of paint and finish that you choose has an effect on the overall price as well.
Kitchen cabinet painting is usually less expensive than it is to replacing them completely. However, in some circumstances, it isn't avoidable.
Acrylic cabinets, for example, don't respond well to being painted. They often warp, and they can't be concealed well.
If you have hardwood cabinets that are in a rough condition that needs to be sanded down, that's another expense to take into consideration when deciding whether to repaint or replace. New kitchen cabinets range from $4,000 to $13,000 on average.
What Is the Best Paint to Use in a Kitchen?
When choosing a paint for your kitchen, your best options are oil-based or water-based/latex paints. The reason for this is that these paints are favorable for moist, humid environments.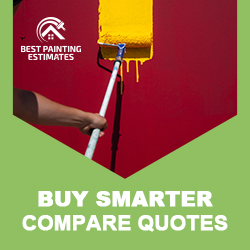 Oil-based paints are going to be more durable and moisture-resistant while latex is more friendly for the environment. Your contractor should give you color options within those types.

Currently, shades of gray are the most popular kitchen colors as it is clean and neutral. Anything that falls into the world of warm neutrals is very on-trend. However, you can't go wrong with a muted blue or a muddy green if you prefer more pops of color.
Get a Painting Estimate
To get the best idea of what you should expect to pay to paint a kitchen, get a personalized estimate. Not only are you able to use your exact kitchen parameters, like what kind of layout you have and your square footage, but you can also search in your location.
It's not uncommon for prices to vary from state to state and even city to city. Don't just take the first quote that you get.
You can save money by checking with different companies in your area. Compare quotes today to find the best price for your project!