How Much Does it Cost to Paint the Interior of a House?
If you do it yourself, you can paint the interior of a house for around $1100, or if you hire a painting company you will invest upwards of $3.89 – $6.42 per sq ft.  Either way, the labor time will easily run you 3-8 days.
Painting the interior of your home is a deeply satisfying task–one in which you transform your environment for relatively little money and effort. But before you grab a brush and start splattering paint, there are a few things you should know to do a proper job and save yourself from unwelcome surprises.
This guide takes a look at everything you should know–from the cost of interior painting to how to prep your walls–so you can plan your project with confidence. Get into the nitty-gritty, after the jump.
Keep reading to learn more about the cost of painting a house interior and its many benefits.
Why Should You Invest in Painting Your Interior?
To keep your home healthy, to keep it looking its best, and to maintain or raise the value of your home, it is a good idea to renew the interior with a fresh coat of paint every few years.
Improved Air Quality
Over the past few decades, paint quality has significantly improved. Many interior paints are now produced with low or no volatile organic compounds (VOCs) thanks to technology and a rising concern for human health. These compounds escape into the atmosphere over time, not only when the paint dries, and may result in respiratory and health issues.
This is a big benefit and a fantastic solution for your house if you or members of your family suffer from allergies, asthma, or chemical sensitivity. A fresh coat of paint also reduces the amount of dust and other irritants, which will enhance the air quality.
Beautified Interior
Every house has defects and weaknesses. The use of your home over time leaves dents, dings, and marks on the walls. Removing these flaws and painting the interior of your house will make it look more pristine and new.
Painting your interior can help breathe new life into your home. Make your home contemporary by choosing a fresh interior paint color. Regardless of its age, you can modernize your home with a fresh coat of paint.
Increased Value of Your Home
One of the simplest and least expensive methods to raise your home's overall worth is to paint it. Your home's success in the real estate market is heavily dependent on appearances, so be sure to put your best foot forward with a fresh coat of paint.
Your inner and exterior surfaces both adhere to this. Potential buyers can tell that you have taken good care of your home by looking at a well-done paint job. It can even help a home sell for more than the asking price while it's already on the market.
How Much Does It Cost to Paint the Interior of a House Per Square Foot?
The national average to paint the interior of a house will fall somewhere around $3.04 per square foot of painted space.
Whether you decide to hire partners or do it yourself, painting the interior of a home can be very costly. When you hire painters you can have the assurance of a job well done.
Material and Labor Costs
The typical price per square foot to paint a home's interior ranges from $1.90 to $4.80. The price per square foot will probably range between $3 and $7 if you are doing the walls, ceilings, and trim. These features require more care and attention to ensure clean edges and lines.
You will be charged extra if the walls need repairs before painting can begin. If you hire a service provider to paint your house for you, these are the typical expenses. You could also decide to paint the room yourself.
DIY Project Paint Costs
Instead of DIYing an outside paint job, homeowners are more likely to take on an inside painting project. An interior paint job is typically less expensive than an external one due to this as well as the price of the paint itself. Additionally, it can be a terrific way to update your home without having to buy entirely new furniture or undertake more time-consuming and expensive renovations.
Measure the square footage of the interior space you need to paint in order to determine the cost of a DIY interior painting project. Think about whether a primer or several coats will be necessary to aid in your color transition. Adding a further application of the same color of paint from a few years ago will suffice.
How Much Does It Cost to Paint the Interior of a Multi-Bedroom House?
Depending on where you live, the cost of painting a multi-bedroom house will range somewhere between $2.91 to $3.48 per square foot. Although cost is typically broken down by square foot some painting professionals charge per room. Each room requires additional work and attention to detail to clean up the door frame and edge work.
Material and Labor Costs
Material and labor costs are likely to increase if you have more rooms because of the additional corners and edgework necessary. A large 1,000-square-foot studio will require less prep work and materials than a two-bedroom unit with the same square footage.
This principle of increased cost can be applied to any multi-room unit. You will also need additional drop cloths, rollers, and painter's tape.
DIY Project Paint Cost
If you decide to paint the interior of houses on your own, you will need to stock up on supplies. Painting a home can be extremely costly, considering you need to stock up on the following:
Paint trays
Roller frames
Paint brushes
Canvas tarps
Painter's tape
Fine gritted sandpaper
Spackle and spatula
When painting a home on your own you will need tools to patch up any holes and cover your doors and furniture. These supplies are known to help prep your walls for all of your materials.
How Much Do Different Rooms Cost When Painting the Interior of a Home?
The size and design of each room vary. Every room in your house will need different types of paint and prep work, based on the room's design and purpose.
Bathroom
Bathrooms are typically small, with tile or acrylic finishes for the shower or tub areas. These elements make painting these spaces generally affordable. A 20-square-foot half bath could cost $140 to $250.
A full or luxury bathroom is typically 70 square feet and could cost anything from $350 to $650. You need to flag your bathroom dimensions and tile use when contracting a painter to do a full-interior painting.
Kitchen
Even though kitchens may be big, cabinets, appliances, and backsplash frequently occupy a considerable portion of the wall area. As a result, painting kitchens are typically less expensive than a bedroom or open space.
Bedroom
According to CRD Design, the standard bedroom is 132 square feet in size. Master bedrooms will be greater than these sizes and can also be painted by our team.
Based on standard layout principles, bedrooms typically have a sizable blank wall that needs to be covered by paint. This means that although painting may cost between $300 and $500, a spacious master bedroom packed with complex trim work may cost as much as $1,500.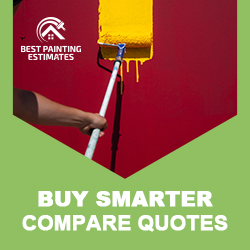 Hallway
Hallways and entryways see a lot of foot traffic, so it may be necessary to use harder paints to protect them from dings and other damage. The price to paint these sections may be somewhere between $303 and $409.
Living Room
Painting a living room is going to run you somewhere between $2.56 to $3.97 a square foot. Although living rooms come in a variety of sizes and shapes. The size of a room can have a serious impact on the price tag of hiring painters. Even a DIY paint job can be incredibly costly.
Many living rooms have elevated ceilings and are more expensive due to the additive wall space. When you are hiring a painter you need to remember to measure with wall height in mind. High-ceiling rooms come with a higher price tag from painters.
With high ceilings, you should strongly consider getting a professional crew to assist in your interior painting. Painting spaces with high ceilings requires the use of an extension ladder, a painting extension pole, and an extra-wide roller frame and cover.
Stairwells
Stairwells are a unique case when it comes to interior paint jobs. Rather than measuring square footage, stairways' painting requirements are measured in linear feet.
Painting stairways involves paying close attention to baseboards, handrails, and other distinctive elements. The average cost of painting a stairway is significantly higher than that of a normal room. Typically the cost will range from $15 to $30 feet per linear foot.
How to Calculate the Cost of Interior House Painting?
Interior wall painting costs are quite simple to calculate because they are mostly based on the overall square footage of the surface area. Interior wall painting costs between $1.90 and $3.60 per square foot. Take the square footage of your home and multiply it by your quoted base cost.
You should also take note of any variables that may cause the price to increase or decrease. If you require a lot of edge work or have any rooms that are primarily windows or tiled bathrooms, the cost can go down. Take note of these home features before you get a quote from a team of painters.
However, if you want the task done well, preparatory or repair work may increase the cost. It takes time to perform preparation work including caulking cracks, replacing warped corner tape, and mending holes in drywall. These chores are necessary to produce high-quality finishes, nevertheless.
Can I Just Paint Over Old Paint?
If the new paint is very different from the previous paint, the old paint may need to be scraped off. This can make your home improvement project much more time-consuming.
It may be necessary to strip down the old paint if the homeowner wants to repaint the oil-based paint with water-based paint or oil-based paint over distemper because the new layer may crack or peel over time.
You should consider removing the old paint from the walls if it has been a while since they were painted. There are various problems with painting over a wall that is old and worn out.
There is a greater chance that the freshly painted walls will acquire flaws and that the new paint won't adhere to the walls effectively. It may not seem appealing to paint over previously painted walls, wasting time, money, and effort.
How Do I Prepare My House for Interior Painting?
Locating a professional or business that offers interior home painting services is only the first step in carrying out your project. To make it simpler for the painters to do their work, you will need to prepare your home.
This is essential to have a pleasant experience and save time and money, preparation is equally essential. Here are some of the necessary steps to prepare your home for interior painting.
Move and Cover Furniture
When painting a room, you should take out any small hard furnishings like a coffee table or a nightstand. The removal of huge pieces of furniture such as sofas, suites, beds, and dining tables and chairs, however, would not be practicable.
To accommodate these objects in the interim, a sizable room or storage area will be needed. Instead, place the furnishings in the room's middle of the room while you paint the walls.
By doing this, the interior house painter has ample room to move around without running the risk of getting hurt. Cover furniture with a huge cloth or an old sheet as well.
Protect Furnishings
Paint can ruin carpets and other furnishings. Rugs and other soft furniture should be taken out of the room and securely stored elsewhere while painting your home's interiors.
Additionally, window coverings like blinds, drapes, and curtains need to be removed. Rugs and mats can be rolled up and covered with plastic for added security. This is increasingly important if you need your ceilings painted.
Clean Your Walls
It's normal to believe that there is no need to clean your walls because they will soon receive a new coat of paint. Just so you know, cleaning really does make a significant difference and helps more than it hurts!
Over time, filth and dust can accumulate on the walls. Once the walls are painted you will be trapping this dirt and grime into your walls. If you don't clean your surfaces properly, these things will adhere to the paint and end up staying on the wall for good.
Before you bring in painters or try it DIY, spend some time cleaning the walls. To dust and clear cobwebs from the walls and ceiling, use a long-handled broom or a small vacuum. You need to clean the entire surface of your walls.
Pay for Primer
In addition to all of these materials, you will need a primer. Prior to color, primer is used as an undercoat. Primer creates a blank canvas when painting over an existing color, allowing the new color to apply evenly and with fewer layers.
Primer has binding qualities that help paint adhere more uniformly, enabling you to finish projects faster and with a more professional appearance. Primer can now be blended into the paint color by many paint manufacturers, which can save time.
Painting Over Dark
You can quickly see why priming the surface is required when making this transition by imagining trying to paint drywall with a light color like sunny yellow over a dark color. Primer will help you suppress the deep tones of the dark colors.
When painting over a dark layer of paint, you may occasionally require a tinted primer to make the new color you've chosen look more accurate to the sample swatch. Before you paint your interior you will need to get the base color much lighter with a primer.
Clean Up Your Walls
Primer helps you cover the surfaces of blemishes and dirt on the walls. Although there are paint-and-primer-in-one products that make the procedure simpler, paint won't stick to or offer effective coverage on walls that are heavily discolored or dirty.
Replacing Wall Paper
Whether you have opted to remove your pre-existing wallpaper or paint over it. Prepping and priming your walls is a must.
It takes careful planning to successfully paint over wallpaper. It might be necessary to fix or replace any missing or loose wallpaper in this situation.
Peeling wallpaper layers are the last thing you want to see after going to all the bother of painting over it. Applying an adhesive compound where the wallpaper is most vulnerable can help avoid peeling.
Types of Paint
Color isn't the only element to take into account while painting a room in your house. The overall appearance of your space will be determined by the sort of paint finish you choose.
With so many different types of wall paint available, it's crucial to know which gloss or finish is ideal for a certain room. This guide will assist you in making decisions on different paint finishes and the ideal paint for the walls of your home.
Flat Paint
Flat paint is typically less expensive and easier to use to apply than other finishes. Since flat paint gives a dull, non-gloss appearance and is more difficult to clean, it is best used on ceilings and in low-traffic areas.
Because flat paint has the most pigment of any finish, it is also referred to as concealer paint and matte paint. Since it is entirely non-reflective, any light that is aimed at it will be absorbed by the paint.
Eggshell Paints
Paints with a satin or eggshell finish are best for areas with heavy traffic. because they are made of glass, which is simple to clean and has ideal light-reflecting features in most settings.
A real paint finish that resembles the surface of an eggshell is called eggshell paint. Eggshell has more of a sheen than matt emulsion paint or "satinwood," but less gloss than satin or silk.
Semi-Gloss Paint
Semi-gloss paints are more resilient than flat paints with a matte finish even though they lack the high shine or luster of high-gloss finishes. These paints are not advised for use on wall surfaces; instead, they should be used on trim, windowsills, banisters, or smaller surface areas.
High Glass Paint
The glossiest paint finish is available in high-gloss. They can withstand everyday scrubbing because they are the most resilient and washable. This kind of paint is used on your doors, trim, and cabinets.
High-gloss paint can be used on exterior details like shutters in addition to being an interior paint. However, when employing this finish, prep work is crucial since if done incorrectly, it might reveal numerous flaws.
Factors to Consider When Picking Your Paint
After picking out a color, you will need to think about the finish you'll be applying. The traditional wisdom has long held that a satin or eggshell finish. It was often believed that semi-gloss and high-gloss finishes were best reserved for trim, where they could highlight the curves of a molding profile or the panels of a door.
Amount of Foot Traffic
The quantity of traffic your space will experience is arguably the most crucial factor to take into account when choosing a paint finish. While quieter spaces like dining rooms can get away with eggshell or even flat paints, busy spaces like kitchens need more durable finishes like satin and semi-gloss.
Range of Finishes
The sheen of different paint finishes is classed. Different paint types range from flat to extremely high-gloss finishes. A slightly higher-gloss finish will perform better than a matte finish if you're trying to assist brighten a dimly lit area.
Consider the Benefit and Cost of Painting a House Interior
Everyone would appreciate a home refresh. The cost of painting a house interior typically deters people from getting their interior painted.
Our team at Best Painting Estimates will work tirelessly to get you the best price on an interior paint job.
Contact our team today for a quote!