How Much Does it Cost to Paint a 2000 Sq Ft House?
If you do it yourself, you can paint a 2000 sq ft house for around $480, or if you hire a painting company you will invest upwards of $4.89 – $8.12 per sq ft.  Either way, the labor time will easily run you at least 7-10 days.
More than 80% of houses in the US are over 20 years old. At that age and stage in a house's lifespan, it needs some TLC. One of the simplest but most effective ways to refresh a house is updating the paint job. The guide from Best Painting Estimates will help you calculate your cost.
Both interior and exterior paint make a huge difference to the look of a home. And it's not just a cosmetic addition. Repainting a house can help keep expensive problems like moisture damage at bay.
But how much does it cost to repaint a 2000 sq ft house?
That depends on whether you do it yourself or hire professional painters. Both have pros and cons, and variable costs.
In this article, we'll go over how much it costs to have your house's interior and exterior painted. We'll also look at the price of doing it yourself so you have a comparison.
Painting a 2000 Sq Ft House – The Rooms
An average 2000 sq ft house looks something like this:
3-4 bedrooms
2-3 bathrooms
Kitchen
Dining area
Living space
Entryway
Garage
Obviously, every home is different. This list may not describe your home at all! But this is our starting point for working out the cost to paint a house.
This layout assumes a certain number of walls, which leads us to an average amount of paint, which we'll be working from in this article.
You can adjust these estimates according to the layout of your home. For example, you may have a very spacious 2 bedroom, open plan home that is 2000 Sq Ft. In that case, your costs may be reduced because there's less surface area.
But a large modern home like that may have higher ceilings, which cost more to paint.
As you can see, each home has design factors that affect the price. But we'll be discussing the cost of a standard 3-4 bedroom 2000 sq ft home.
The Average Cost to Paint a 2000 Sq Ft House Interior
Even with the support of a professional painting company, you're looking at no less than 4 to 5 days to complete the job. Generally speaking, most homeowners can expect interior house painting to set them back by about $7000. State to state and even city to city, this number fluctuates. So when we say an average of $7000, we mean anywhere between $6000 to $10000.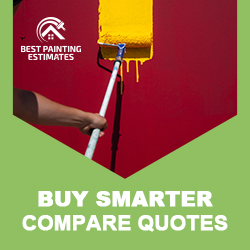 This is the price of painters doing all the work for you, which includes the cost of the paint and their time.
But a $6000 range is a very broad estimate! To help you fine-tune your budget, we'll go over some specifics and how much they cost individually. That way, you can decide whether exterior paint, ceilings, and even trims are worth it.
How Much Do Painters Charge per Square Foot on a 2000 Sq Ft House?
The price per sq ft to paint a house is not heavily influenced by the size of the house. For almost all homes, painters charge $2-3 per sq ft.
The reason this price fluctuates is not the size of the house, but the nature of the walls.
For example, if you have high ceilings, your walls are taller. In that case, the price per sq ft can increase by $1.50-1.90 per sq ft. So your total could jump to $4.50 per sq ft.
In rare cases, your ceilings may be so high that scaffolding is needed for your painters to complete the job. That will incur additional labor and equipment costs.
But barring that exemption, the $2-3 rule means your cost should come out at $4000-6000. Using the $2-3 rule can help you make this number more accurate for your home's exact size.
How Many Gallons of Paint Do I Need for a 2000 Sq Ft House?
As a rule of thumb, one gallon of paint should cover 400 sq ft of space. So for a 2000 sq ft house, a single coat will require 5 gallons.
So to decide how many gallons you need, you first need to decide how many coats of paint you'll go through. This is where the type of paint you buy is important.
To save money, many people think cheaper paint is a good option. It's also often thinner as it's of cheaper quality, so it looks like it goes further. However, that just means you'll need more coats, which costs more overall.
Investing in good value but good quality paint makes the most of the gallons you've bought.
The number of gallons you'll need is also affected by the color you choose. Lighter colors usually need fewer coats, one or two in total. Darker colors, however, make it very obvious when the paint isn't thick enough.
Dark paint colors usually require at least 2 coats, if not more. That can make a 10-gallon job into a 15-gallon one! It's best to consult with your painters to decide exactly how many coats and therefore gallons your project requires.
Should I Use Primer?
Covering an entire 2000 sq ft project with primer may seem unnecessary and expensive. But it can reduce the amount of paint you need to use.
That's because primer seals the existing wall, so the new paint can't soak in. Therefore, less paint is needed.
This can also protect your walls from moisture and dampness. Plus, it ensures existing marks on the wall don't show through the new paint.
How Much Does It Cost to Paint Ceilings in a 2000 Sq Ft House?
A typical ceiling, that doesn't need complex work and is of standard height, should cost $1-2 per sq ft.
For a 2000 sq ft house, that should cost $2000-4000. When an entire project only costs $5000, this is a huge addition.
For that reason, some people like to be selective about which ceilings they'd like repainted. That way, their house feels fresher, without the huge bill.
How Much Does It Cost to Paint the Trim in a 2000 Sq Ft House?
Painting trims is a very variable expense that mostly comes down to materials and labor. The simplest job is just painting the trim, which is the cheapest option. More complex work involves re-sanding it, prepping it, then painting and caulking.
One of the cheapest options is painting interior wood trim. In a 2000 sq ft house, this can cost around $650.
The upper end of the spectrum is prepping and painting an exterior vinyl trim. This requires far more work, especially in the harder-to-access areas. In this case, the cost can be $8,000 or more – possibly double the paint job!
For exact figures, you'll have to consult local contractors. Just remember that interiors and wood trims are the cheapest painting options.
How Much Does It Cost to Paint the Exterior of a 2000 Sq Ft House?
Painting a home's exterior usually costs a similar amount to painting the interior. While there are no inner walls to contend with, there is the weather, temperature, and complicated access. So if your interior is costing you $5000, the exterior will probably be a similar price.
Just because it's an expensive addition doesn't mean it should be overlooked. Painting a home's exterior can protect it just as well as painting the interior. The paint protects and preserves the materials underneath.
Because of the large cost, some people like to repaint their home's interior and exterior alternately, such as 5 years apart.
How Much Are Labor Costs to Paint a 2000 Sq Ft House?
Regardless of the size of your house, labor costs are a huge chunk of your renovation costs. This applies to painting in particular because it is such a time-consuming task that laymen can do.
For example, you wouldn't fit your kitchen without a plumber, it's too risky! But most people are able to paint their own homes. How much would you save by doing so?
Labor costs are $1-2 per sq ft of a home. When the entire job costs $2-3 per sq ft, you can see that labor can cost half or more of your total spending.
So if your painting project costs $5000, the labor may be costing you $2500 or more. You could knock that much off your project's bill by doing it yourself.
Should I Paint My Home Myself?
Of course, taking on such a huge project is time-consuming. That's why it costs so much in the first place!
If you have the time to spare and don't mind it taking longer, you may choose to paint your home yourself. Even amateur painters can achieve a good finish if they take their time.
On the other hand, if you'd like the project to be quick and painless, hiring painters is the way to go. They are pros of speed and efficiency, and only use the amount of paint that's needed.
Start Your Project Totally Informed
Now that you know the cost of painting your 2000 sq ft house, where do you start? Use our figures to help you specify your budget.
Being informed about what costs you should be expecting prepares you to consult contractors. You'll know whether you've found a good deal, or whether you're being overcharged.
Still have some questions? We have the best painting estimate resources to help homeowners with painting decisions. Check out our most recent articles for the latest painting pricing, or get in touch if you'd like to know more.