How Much Does it Cost to Paint Kitchen Cabinets?
Be it DIY or outsourcing the project, the cost to paint kitchen cabinets will range from $388 – $2,770. Best Painting Estimates explains what you need to know to calculate your cost:
Many homeowners are surprised to learn that the national average cost of paint needed for kitchen cabinetry is under $300. However, what many people do not anticipate is the amount of time required for this kind of job. For example, if sanding is required, you may be easily looking at 3-5 days of labor. For some, this is enough to motivate them to hire a painting company.
Are you considering refreshing your kitchen cabinets? With home improvement spending up by 3% in America, you won't be alone. Updating the look of your kitchen can boost your home's overall value and provide a better space to gather.
For the easiest update, turn to paint. As you plan your project, you'll want to evaluate costs and determine your approach. Keep reading to learn more about the cost to paint kitchen cabinets!
Your Kitchen Size Impacts Painting Cost
To know how much it costs to paint kitchen cabinets, you'll need to know the size of your kitchen area. If you have 100 square feet of cabinets in your kitchen, for example, you may pay as little as $200 to $310 for a DIY approach to painting. Alternatively, hiring a painting company may run you between $800 and $1050.
The more kitchen cabinets you have, the more paint you'll need to cover them. For kitchens that receive a lot of heavy use, you'll want to invest in better quality paint. And you may need more than one coat of it to get the ideal finish. If you had a large kitchen where you were also refacing your cabinets, you could be looking upwards of $3,100 – $4,500.
Spacious kitchens, on the other hand, could cost a few thousand dollars or more to paint. And if you need to move appliances, you may pay extra if you hire painters to do the job.
Further, the type of cabinets you have will affect the final cost. While it's tempting to head to the hardware store and start buying paint, you should do some research first. What materials make up your cabinets, and what design elements could pose a challenge?
Flat cabinet faces will be easier to work with, meaning you'll take less time and use less paint. But if your cabinets have grooves and other forms of detailing, expect more of an investment. You may need to use a paint sprayer to achieve a flat finish on the face and switch to a brush for crevices.
You also may need to pay more for chalk or enamel paint to cover laminate surfaces. Wood cabinets, by contrast, can accept acrylic paint, which is cheaper.
What Kind of Paint Is Best For Cabinets?
The type of paint you choose for your kitchen cabinets will impact the price tag for your project, too. But it's worth investing in a paint that is compatible with your cabinet materials. That way, the paint will go on smoothly and not flake off.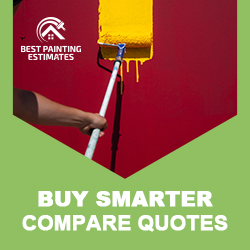 Acrylic Paint: As one of the cheapest options, good acrylic paint will work well with wood cabinets, and clean-up will be simple. Go with a satin or semi-gloss finish to make cleaning cabinet faces easier. And use a primer before you apply the paint to ensure better adhesion.
If you apply acrylic paint to laminate cabinets, it could peel off. And even on wood, acrylic paint may start to crack over time. For scuffed wood surfaces or laminate, you may need to spring for chalk paint.
Acrylic enamel paint can work well on laminate cabinets, too. The slickness of laminate can make it tricky to cover, regardless of whether you choose chalk or enamel paint. As a result, you should use a bonding primer before applying paint.
When looking at prices, you can expect to spend at least $25 for a gallon of interior latex paint. A higher-end paint, which may have more concentrated pigment, could be closer to $50 per gallon. You may get more vibrant colors and a longer lifespan by opting for premium paint.
One gallon of paint should cover around 400 square feet. This total could equate to the size of a small kitchen. You may need to apply two coats of paint to get the robust color you want, however.
Do I Need to Sand Cabinets Before Painting?
Do you need to sand your cabinets before painting them? Or can you just paint right over them? These are the questions you're probably asking as you look into painting kitchen cabinets.
Cabinet Condition: The answer depends on the condition of your cabinets, as well as the color you'll be using. Cabinets that are old and cracked may need some sanding and repair work to make them paintable. You should take off all hardware, too.
If you're hoping to refresh darker cabinets with a lighter color, you should sand the surface to remove the existing paint. While this adds time to the process, it will make the final result look better.
Grain Texture: If your existing kitchen cabinets have grain texture, you'll need to decide if you want that visible in your new cabinets. If you do not want that green visible you will need to sand the cabinet.
Using Primer: You should use a primer before painting, as well. Primer is cheaper than paint and it provides a base coat that can help smooth out the surface. It also helps the new color look truer when you paint it on top.
Be sure to read the recommended drying times for the primer and paint and follow those guidelines. Otherwise, the paint won't adhere to the surface properly.
What are the Best Colors for Kitchen Cabinets?
When it comes to choosing the right color for your kitchen cabinets, there's not a single right answer. Start by considering the reason you're painting the cabinets.
Currently, white cabinets are trending with most homeowners and are closely followed by grey.
Are you prepping them to look better before putting your house on the market and moving? Or are you trying to spruce them up so you can enjoy spending time in your kitchen?
If you're planning to put your home on the market in the next few years, you'd be wise to go with a neutral color. You want to give your kitchen broad appeal so potential buyers won't be turned away. Look at the colors on your floor, window trim, and backsplash to inform your choice.
A neutral greige that provides some contrast against your floor color would be a safe bet. White is another clean and traditional color that looks good in most spaces. Blues and greens that are muted with gray can look classy, as well.
On the other hand, if you're in your forever home, you may want to personalize your colors more. In this case, feel free to get a little more daring with your color choice. A bright and sunny yellow or kelly green could add the dose of fun that you've always wanted.
You could go bold with a two-tone look. For instance, you could paint the cabinet faces one color and the grooves a darker color. Be aware, though, that introducing more paint colors and more complexity can ratchet up the price.
Compare Repainting with Refacing Cabinets
Refacing cabinets will cost considerably more than simply repainting them, however, for some homeowners, it's worth the investment.
Repainting: Repainting cabinets involves adding a fresh color to your existing doors without removing them. Refacing cabinets is a little more involved. And it will take more money in your budget to make it happen.
Refacing: Are you looking for a more dramatic transformation? If so, the extra effort and cost of refacing could be worth it. For a thriftier approach to a kitchen upgrade, stick with painting.
With cabinet refacing, you'll keep the interior of the cabinets the same, but you'll swap out the doors and hardware. In other words, the main structure of your cabinets remains intact but you change out the visible parts.
This is an effective way to change the style of doors without overhauling the entire framework of your kitchen. When the storage space inside your cabinets is in good shape, you can save money by not changing this part of your kitchen.
Just be aware that refacing cabinets can cost around twice as much as repainting cabinets. That's because you're investing in paint as well as the door material. Refacing can cost anywhere from $2,000 to $4,100 depending on the kitchen size and type of paint used.
Refacing is cheaper than replacing cabinets. But if you're on a tight budget, stick with painting. Refinishing cabinets with paint offers the cheapest approach to updating your kitchen cabinets.
Painting Versus Replacing Cabinets
Painting offers a clear advantage over replacing cabinets in that it is much cheaper. You'll only be paying for materials and, if you hire professionals, the cost of labor. Replacing cabinets adds a lot of additional expenses and could cost three times as much if not more.
And replacing your cabinets is more expensive than refacing your cabinets. But if you don't like the layout of your kitchen or the style seems dated, you may want to make a bigger investment. For a quicker refresh, however, start with painting and leave a bigger project for later.
Replacing cabinets entails removing all existing cabinet structures. Typically, it's smart to pair this with an entire kitchen remodel where you also address wall colors, floors, and overall layout. It's easy for a cabinet replacement project to snowball into something bigger!
To replace cabinets, you'll easily spend over $10,000 for a professional project. This would include going with higher-grade cabinets made with a sturdy plywood and some customization. And in bigger kitchens, you may spend up to $30,000.
While you may be able to handle a DIY painting job yourself, replacing cabinets is a much more complicated affair. You'll need to ensure that you have a level base before installing new cabinets. An unlevel base could lead to cracks and warped materials down the road.
Professional contractors will have the tools and experience to install new cabinets properly. They'll also know how to help you configure cabinets to add storage space or create a better layout. In other words, you're much better off leaving this job to the pros.
Weigh the Pros and Cons of DIY Painting
One of the key advantages of taking on a DIY painting project is the ability to save money. After all, you won't have to pay for labor. But remember that you'll need to have the time to commit to doing the job well.
Additionally, you'll need to spend money on supplies. You could spend over $500 alone on paints, brushes, drop cloths, primer, and tape. Professional painters, by contrast, will have these materials — and they'll know how to use them properly.
If you've never painted before, it's a risky endeavor to start with such a heavily-used room in your home. You can use a paint sprayer to speed up the process and get a smoother finish. But if you don't know how to use a sprayer or paint cabinets with more intricate surfaces, you could end up with streaks and drips.
At the very least, ask a professional contractor for an estimate. They should be able to show you professional photos of their previous work, as well. You may discover that enlisting professionals may be the better route to take.
What Is the Cost to Paint Kitchen Cabinets?
There are a few general price guidelines you can use to determine the cost to paint kitchen cabinets. If outsourcing the work, you should anticipate spending around $34 on each smaller drawer face and closer to $71 for cabinet doors.
When you apply those prices to your kitchen, you could end up with a price tag that hits close to $1250 – $2,300 for larger kitchens. If you use professional services and your cabinets require a lot of prep work, you'll see those aspects reflected in the higher price. For a large kitchen that requires significant labor, the price could creep higher.
For a more modestly-sized kitchen, the total cost could slide under $800. Keep in mind that the cost of labor will have a significant impact on your price, no matter what size your kitchen is.
Taking on the job as a DIY project could keep the price closer to $300. You'll just need to be willing to take the time to research and gather materials. And you'll have to learn how to paint on the job.
If you do the work and choose less expensive acrylic paints, you could even keep the price under $270 in a smaller kitchen. And in very small kitchens you could spend around $500 for a painting refresh. Ultimately, you'll need to set a budget and look for places to trim costs!
Invest in a Freshly Painted Kitchen Cabinets
The cost to paint kitchen cabinets hinges on several factors, including the scope of the job and materials. Determine how many gallons of paint and primer you'll need, and repair or sand your cabinets as needed first. Then determine if you want to take on the job yourself or if you have the budget to let professional painters do the work.
When you're ready to improve your kitchen cabinets, contact us and we can help!