Top Qualities to Look for When Hiring an Exterior Painter
Are you planning to give your home's exterior a fresh coat of paint? If so, you should know that hiring a professional painter can make a significant difference in the quality of the finished product. But with so many painters out there, how do you know which one to choose? In this blog, we'll discuss the top qualities you should look for when hiring an exterior painter.
Experience and Reputation
When it comes to hiring a painter, experience is key. You want to work with someone who has a proven track record of delivering high-quality work. Look for painters who have been in business for several years and have a portfolio of past projects to showcase their skills. This includes:
Checking references
Reading reviews
Speaking to past customers
Getting quotes
Expertise and Specialization
Exterior painting requires a specific set of skills and expertise that not all painters possess. Look for painters who specialize in exterior painting and have experience working on a range of surfaces, including stucco, brick, and wood. A painter with expertise in exterior painting can offer valuable advice on the best paint and techniques to use for your specific project. For example:
Selecting the right type of paint and sheen for your home's exterior
Knowing how to properly prepare the area before painting
Using techniques to ensure a smooth, even finish
Professionalism and Communication
A good painter should be professional, punctual, and reliable. They should show up on time, be respectful of your property, and keep you updated on the progress of the project. Look for painters who are responsive to your questions and concerns and can communicate clearly and effectively.
Insurance and Licensing
Make sure the painter you hire is properly licensed and insured. This will protect you in case of any accidents or damages that occur during the project. A reputable painter should be able to provide proof of insurance and licensing upon request.
Attention to Detail and Quality
A great painter pays attention to every detail, from surface preparation to the final coat of paint. They should take the time to properly prep the surfaces, fill in cracks and gaps, and apply the paint evenly and smoothly. Look for painters who take pride in their work and are committed to delivering high-quality results.
Hiring an exterior painter can be a great investment in your home's appearance and value. By looking for painters who possess the qualities we discussed above, you can ensure that you work with someone who is experienced, skilled, professional, and committed to delivering the best results possible. So, take your time, do your research, and choose a painter who meets your expectations and needs.
Don't DIY Your Exterior Painting: Why It's Worth Investing in a Skilled Painter
While DIY projects can be rewarding, exterior painting is not one of them. Here are a few reasons why it's worth investing in a skilled painter instead of doing it yourself.
Quality of Work
Professional painters have the experience, skills, and equipment to deliver high-quality work that lasts for years. They know how to properly prep surfaces, apply the paint evenly, and create a smooth finish. When you DIY your exterior painting, you risk making mistakes that can affect the quality of the finished product.
Safety
Exterior painting can be a dangerous job, especially if you're working on a multi-story house. Professional painters have the proper safety equipment and training to work at heights and on uneven surfaces. They also know how to handle hazardous materials and dispose of them safely.
Cost Savings
So, how much does it cost to paint the exterior of a house? While the cost of hiring a professional painter may seem expensive upfront, it can actually save you money in the long run. A skilled painter can help you choose the right paint and materials for your project, which can save you money on unnecessary products. They can also identify and fix underlying problems that could lead to more significant issues down the road.
Time and Convenience
Exterior painting is a time-consuming and labor-intensive task, especially if you're doing it alone. A professional painter can complete the job quickly and efficiently, saving you time and stress. They can also work around your schedule, minimizing disruptions to your daily routine.
When it comes to exterior painting, investing in a skilled painter is a smart choice. They can deliver high-quality work that lasts for years, ensure your safety, save you money, and make the process more convenient and stress-free. So, while DIY projects can be fun, it's worth leaving the exterior painting to the professionals.
The Average Cost of Hiring a Professional for Exterior Painting
If you're planning to hire an exterior painter, it's essential to have an idea of how much you can expect to pay for their services. While the cost can vary depending on several factors, here's what you need to know about the average cost of hiring an exterior painter.
Factors Affecting the Cost
The cost of hiring an exterior painter can depend on several factors, including:
The size of the project
The type of surfaces to be painted
The condition of the surfaces
The quality of the paint and materials used
The location of the property
The experience and reputation of the painter
Average Cost
On average, hiring an exterior painter can cost between $1,500 to $4,000 for a single-story home, and between $3,000 to $7,000 for a two-story home. However, the actual cost can be higher or lower depending on the factors mentioned above.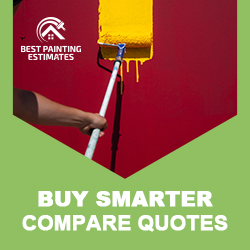 Other Expenses
In addition to the cost of labor and materials, there may be other expenses you need to consider, such as:
Permit fees (if required)
Repairs to damaged surfaces
Power washing or cleaning the surfaces before painting
Furniture or plant removal or protection
How to Save Money
If you're on a tight budget, here are a few ways you can save money on hiring an exterior painter:
Get multiple quotes from different painters and compare them.
Choose a painter who uses high-quality, long-lasting paint that requires less maintenance in the long run.
Consider having the project done during the off-season when painters may offer lower rates.
Do some of the prep work yourself, such as cleaning the surfaces and removing furniture and plants.
While hiring an exterior painter may seem expensive, it's worth the investment in the long run. By understanding the average cost and factors that affect it, you can make an informed decision and choose a painter who meets your budget and expectations.